The YS NanoReloaded re-ignites a shaft brand model long known for performance and quality. In a quest to maintain the similar performance characteristics as the YS+ series, the engineers at Graphite Design took the YS+ wood shaft profiles and combined them with the high performance, NANOALLOY material technology of the Tour AD DI, also known as "DI Technology", to create the new YS NanoReloaded wood shafts. Manufactured using 46t premium carbon fiber materials the addition of the DI Technology provides the new YS NanoReloaded with additional stability without the loss of feel.
The YS NanoReloaded wood shafts are available in 50g R and S Flex, as well as 60g and 70g in R, S and X Flex.

Features & Technology:
DI TECHNOLOGY- Consisting of the advanced NANOALLOY Material Technology from Toray Composites located in the tip region for increased stability and exceptional feel.
46 ton, premium, aerospace quality, low resin content carbon fiber materials.
Graphite Design proprietary Material Stiffness Integration (MSI) design philosophy and technology.

Bend Profile:
| Shaft | BUTT Section | MID Section | TIP Section |
| --- | --- | --- | --- |
| YS NanoReloaded 50 | MEDIUM | MEDIUM/SOFT | MEDIUM/SOFT |
| YS NanoReloaded 60 | MEDIUM | MEDIUM | MEDIUM |
| YS NanoReloaded 70 | FIRM | MEDIUM | MEDIUM |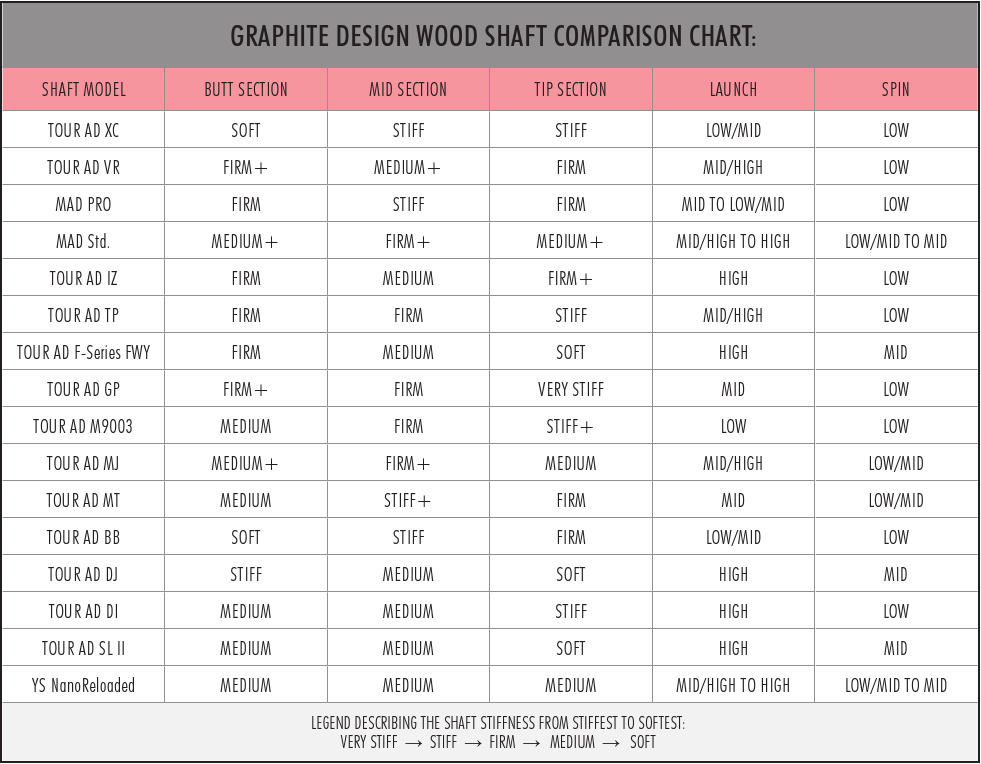 Performance:
Designed to promote Mid to Mid/High launch angles with Low/Mid to Mid ball spin rates.
MSRP $129
Fitting:
86-95 MPH
96-105 MPH
105+ MPH
R Flex
(Regular)
S Flex
(Stiff)
X Flex
(X-Stiff)
Tip Trimming for Std Bore:
| Driver | 3 Wood | 5 Wood | 7 Wood | 9 Wood |
| --- | --- | --- | --- | --- |
| 0″ | 0.5″ | 1.0″ | 1.0″ | 1.0″ |
Pro's Choice encourages consulting a PGA Professional or qualified club builder to help you determine the correct shaft and length for your swing profile and to meet your goals.
Always leave a minimum of 0.5″ of the parallel tip section of the shaft above the hosel to maintain shaft durability and prevent shaft failure/breakage.  For example, if the head has a hosel bore depth of 1.5″ and the shaft has a parallel tip length of 3.0″, the tip trim length should not exceed 1.0″.
Improper installation may affect the intended performance of the shaft. Warranty is for material and workmanship of our products. Improper installation voids warranty of product.
Specifications:
| Shaft Type | Part Number | Flex | Length | Wt. | Tip OD | Tip Para. | Butt OD | Torque | Kick pt | Launch | Spin |
| --- | --- | --- | --- | --- | --- | --- | --- | --- | --- | --- | --- |
| YS Reloaded Five R | YS5RL-R | Regular | 46″ | 56g | .335″ | 3.0″ | .596″ | 4.6 | LOW/ MID | MID/ HIGH | MID |
| YS Reloaded Five S | YS5RL-S | Stiff | 46″ | 57g | .335″ | 3.0″ | .598″ | 4.6 | MID | MID | MID |
| YS Reloaded Six R | YS6RL-R | Regular | 46″ | 65.5g | .335″ | 3.0″ | .602″ | 3.7 | MID | MID/ HIGH | MID |
| YS Reloaded Six S | YS6RL-S | Stiff | 46″ | 66.5g | .335″ | 3.0″ | .602″ | 3.7 | MID | MID | LOW/ MID |
| YS Reloaded Six X | YS6RL-X | X-Stiff | 46″ | 68g | .335″ | 3.0″ | .604″ | 3.6 | MID/ HIGH | MID | LOW/ MID |
| YS Reloaded Seven R | YS7RL-R | Regular | 46″ | 77g | .335″ | 3.0″ | .602″ | 3.4 | MID | MID/ HIGH | MID |
| YS Reloaded Seven S | YS7RL-S | Stiff | 46″ | 77g | .335″ | 3.0″ | .604″ | 3.4 | MID | MID | LOW/ MID |
| YS Reloaded Seven X | YS7RL-X | X-Stiff | 46″ | 78g | .335″ | 3.0″ | .604″ | 3.4 | MID/ HIGH | MID | LOW/ MID |