Carlsbad, CA –October 19, 2016 – Pro's Choice Golf Shafts, Inc. announced today that the winner of the Japan Open Golf Championship held at the Sayama Golf Club in Iruma, Saitama, Japan played a Graphite Design Tour AD DI-8 Tour X-Stiff (TX) flex wood shaft in his Srixon Driver and a Graphite Design Tour AD DI-9 Tour X-Stiff (TX) flex wood shaft in his Taylormade #3 metal wood.

Additionally, the winner of the LPGA KEB-Hana Bank Championship held at the Sky 72 Golf Club Ocean Course in Incheon, South Korea utilized two Graphite Design Tour AD DJ-7 X-Stiff wood shafts in both her Taylormade M1 Driver and TaylorMade #3 metal wood en route to her first career LPGA victory.   This win marks the 11th win of the 2016 season on the LPGA tour for a Graphite Design shaft.

The 2nd place finisher of the LPGA KEB-Hana Bank Championship also relied on three Graphite Design shafts in her bag, playing the YS NanoReloaded Five Stiff Flex wood shaft in her PXG Driver and the YS NanoReloaded Six Regular Flex in both of her PXG #3 and #7 metal woods.

"It is great to see Graphite Design Tour AD shafts win two events globally this past week on the JGTO and LPGA tournaments. Both players showed that Graphite Design Tour AD shafts offer the accuracy and distance needed to become a winner" stated Erik Boysen, Vice President of Tour Promotions, Pro's Choice Golf Shafts, Inc.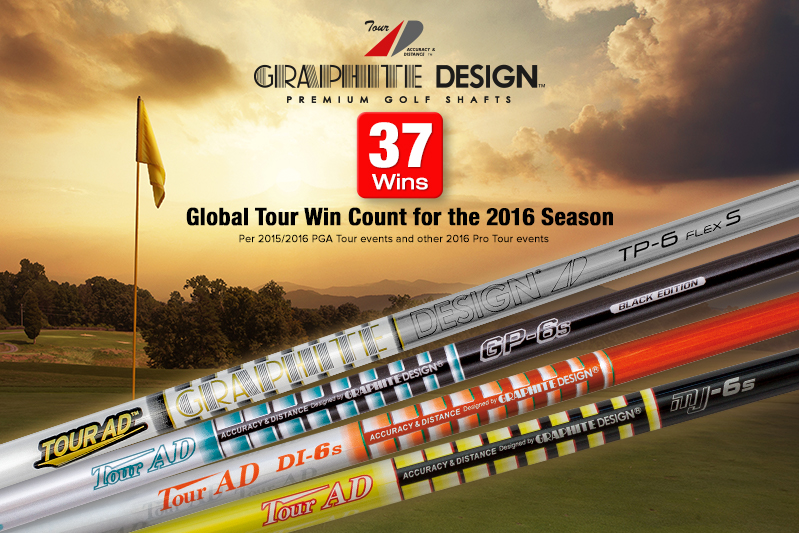 The recent win on the Japan Tour brings the count to 21 global professional tour wins this season for a Graphite Design Tour AD DI shaft model and the two wins last weekend result in a total of 37 global professional tour wins for a Graphite Design brand model shaft for the season.
The Tour AD DI model is the first Graphite Design shaft design that was integrated with Toray Company's original NANOALLOY material technology in the tip section of the shaft.  This material technology has now come to be known as "DI Technology".  This unique material technology promotes additionally shaft stability without the loss of feel and allows the player to create greater club head speed and thus greater ball speed while still providing exceptional feel and control.
The Tour AD DI also utilizes premium, aerospace quality 50t carbon-fiber materials to provide the best performing shaft available. The softer mid-section bend profile of the Tour AD DI allows the player to load the shaft properly, yet it maintains a firm enough tip section through IMPACT promoting a high launch and low spin ball flight condition. The result, the Tour AD DI delivers players to the next level in shaft performance and will create a "DEEP IMPACT" on your game!
About Graphite Design:
With 26 years of designing and manufacturing premium graphite golf shafts, Graphite Design shafts can be seen in play by the best professional players on all tours worldwide.  Validating the company's "Tour AD" logo, all of Graphite Design's Tour-proven shafts specifically promote "Accuracy and Distance".  On Tour, Graphite Design shafts recorded 41 Global tournament victories in 2015 and have helped numerous golf professionals earn well over 100 victories and millions of dollars in prize money since inception.   Graphite Design continues to be the most dominant shaft brand on the Japanese JGTO Professional Tour for the past thirteen years.
About Pro's Choice:
Pro's Choice Golf Shafts is the exclusive distributor of Graphite Design golf shafts in the United States, Canada, Europe, S. Africa, S. America and Australia.  Pro's Choice Golf Shafts distributes all of the current Graphite Design shafts including the new 2017 Tour AD TP wood model shaft, well as the YS Nano Reloaded, G-Series, YS+, Tour AD DI, Tour AD BB, Tour AD DJ, Tour AD GT, Tour AD MT, Tour AD MJ, Tour AD M9003 and Tour AD GP model shafts.  The company is located in Carlsbad, California with a distribution warehouse located in San Diego.
To learn more about Graphite Design shafts and Pro's Choice, please visit www.proschoicegolfshafts.com or Like us on Facebook at www.facebook.com/Graphite-Design-Golf-Shafts-163466990355904
For sales and media inquiries please contact Bill McPherson at 619-454-6283 or b.mcpherson@proschoicegolfshafts.com.  For Pro Tour promotions inquiries, please contact Erik Boysen at 760-519-2362 or e.boysen@proschoicegolfshafts.com.