CARLSBAD, CA – September 1, 2017 – Pro's Choice Golf Shafts, Inc. announces that the new 2018 Tour AD IZ "Into the Zone" wood shafts will be available on Monday, October 2, 2017 through Pro's Choice Golf Shafts, Inc. and their Authorized Dealer network in the US, Canada, Europe, South Africa and Australia.
Designed and manufactured at the Graphite Design Japan factory headquarters, the new Tour AD IZ wood shaft will be available in 40g R2, R1 and S flex, 50g R2, R1 and S flex, 60g SR, S and X flex, 70g S and X flex and 80g S and X flex. Additionally, Graphite Design will offer a 50 gram X Flex within the Tour AD IZ model line-up for the first time.
The new Tour AD IZ, like all of the premium Tour AD wood shafts, utilizes premium, aerospace quality 50t carbon-fiber materials in order to deliver the best feeling and performing shaft available to golfers. The graphics of the Tour AD IZ has a very stealthy look to it in black with white/orange accents and a sleek new satin finish.

The Tour AD IZ shaft profile has a firm stiffness starting at the handle, and medium center section and a firm+ tip profile to promote a high launch angle and low ball spin rates. The Tour AD IZ also utilizes TORAYCA ® T1100G carbon-fiber pre-preg with NANOALLOY ® technology in the tip section of the shaft for additional shaft stability, exceptional feel and precise ball control.
Reach out to your local Golf Club Fitting professional and ask about how to get your Driver or Fairway metal wood "Into the Zone" using the new Tour AD IZ model of premium Graphite Design graphite golf shafts.  The Graphite Design Tour AD IZ wood shafts will carry a MSRP of $500.00.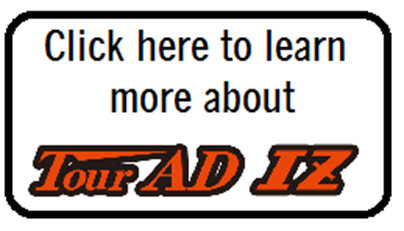 About Graphite Design:
With 27 years of designing and manufacturing premium graphite golf shafts, Graphite Design shafts can be seen in play by the best professional players on all tours worldwide. Validating the company's "Tour AD" logo, all of Graphite Design's Tour-proven shafts specifically promote "Accuracy and Distance". On Tour, Graphite Design shafts recorded 44 Global tournament victories in 2016 and have helped numerous golf professionals earn well over 150 victories and multi-millions of dollars in prize money since inception.  Graphite Design continues to be the most dominant, #1 shaft brand on the Japanese JGTO Professional Tour and has been for the past fourteen years.
About Pro's Choice:
Pro's Choice Golf Shafts is the exclusive distributor of Graphite Design golf shafts in the United States, Canada, Europe, S. Africa, S. America and Australia.  Pro's Choice Golf Shafts distributes all of the current Graphite Design shafts including the new 2017 Tour AD TP wood shafts as well as the YS Nano Reloaded, Tour AD GP, Tour AD MJ, Tour AD MT, Tour AD BB, and Tour AD DI model shafts.  The company is located in Carlsbad, California with a distribution warehouse located in San Diego.
To learn more about Graphite Design shafts and Pro's Choice, please visit proschoicegolfshafts or follow us on Facebook and Instagram.
For sales and media inquiries please contact Bill McPherson at 619-454-6283 or b.mcpherson@proschoicegolfshafts.com. For Pro Tour promotions inquiries, please contact Erik Boysen at 760-519-2362 or e.boysen@proschoicegolfshafts.com.